Discover more from Teahouse
A weekly newsletter about home, travel, and gathering.
Teahouse is a newsletter about home, travel, and community. Here you'll find renovation documentation and destination inspiration alongside a curation of things I'm creating, consuming, and coveting right now.
Did someone forward you this newsletter? If you're not subscribed yet, here you go:
---
It's officially Scorpio season… better known in our household as *birthday month.*
Over the weekend, Mike threw me a little early birthday dinner party—our annual November Italian feast! At the height of lockdown, my friends Landon and Hayley hosted a five-course birthday meal for me—complete with homemade focaccia, handmade agnolotti, duck, espresso martinis, and heavy pours of Tignanello.
It's since become tradition to kick off "the holidays" with my dangerously indulgent festa Italiana. (We also decided that this evening marks the official appropriate start date for turning on the Christmas tunes and stringing up the lights.)
The menu for these affairs is always a Mike-curated surprise, but "you're in charge of decor," he said. No one has to tell me that twice. I loved an excuse to curate a fall table: with a neutral base, gold accents, and moody autumnal florals.
I popped into Trader Joe's, and then grabbed a couple of more special stems from the local nursery: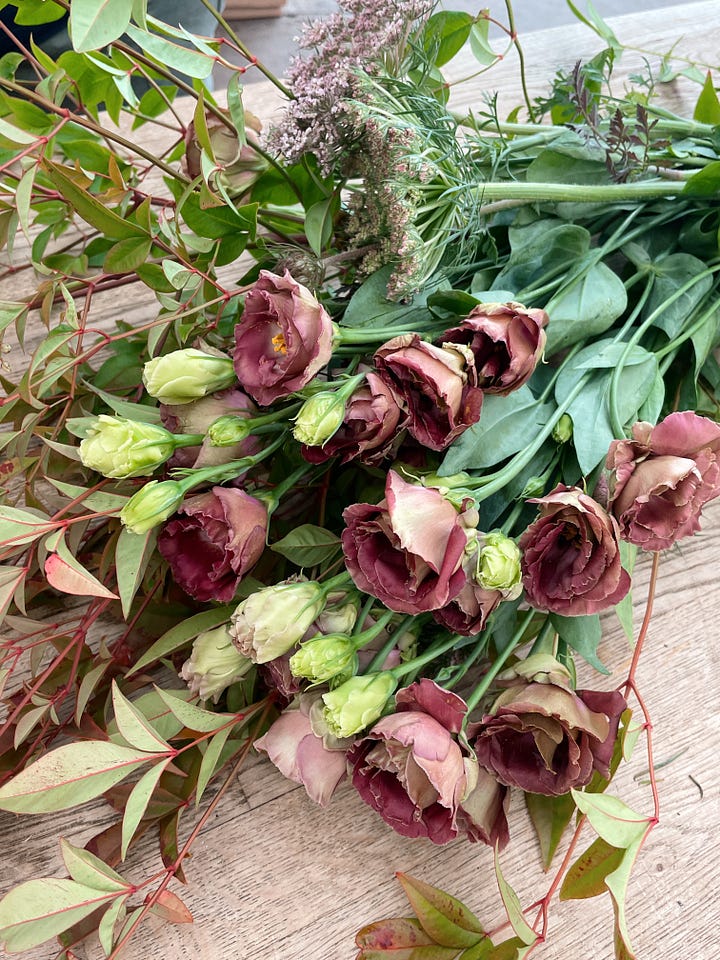 I made one main centerpiece arrangement in a little bowl from Japan, using a Japanese flower frog (my at-home flower arranging hack!) to hold everything in place. Then I tucked the last of our backyard snapdragons into linen napkins.
With the leftover stems, I put together a few smaller arrangements for the entryway, powder room, etc.
This year's Piedmont-inspired menu below. (I tried to seize design control and force a Canva template on Mike since he wouldn't let me assemble the printed menu myself, but he wasn't having it.)
We ended the night on a sweet note with tiramisu and espresso martinis. This
tiramisu recipe
is my go-to for the holidays! Thanks to my sweet friends for celebrating with me and cheffing it up for this delicious meal. ♥️
We're hosting Thanksgiving with friends and family in just a few weeks, and I'm already looking forward to setting another fall table. Let me know in the comments: What are your holiday gathering plans this year? xx
---
Note: I may receive a small commission if you purchase something through my links (it doesn't cost you anything). I only share things that I love and recommend. Thank you for shopping through my links and supporting the work that goes into publishing TEAHOUSE.